Only go with G7 professionals. Because you deserve ultimate consistency.
What is G7?
G7 is a universal, internationally recognized methodology from Idealliance that is designed to calibrate proofing and printing systems to guarantee consistency of color across a wide variety of printing processes. By achieving a common neutral appearance, regardless of inks, substrates or printing methods, G7 is proven to deliver exceptional value from proof-to-print.
How does G7 work?
G7 achieves superior results when compared to more traditional calibration methods. Specifically, G7 relies on visual appearance standards, as compared to previous techniques that aren't related to human vision. As a result, G7 enables superior gray control, so color images are more authentic and pleasing.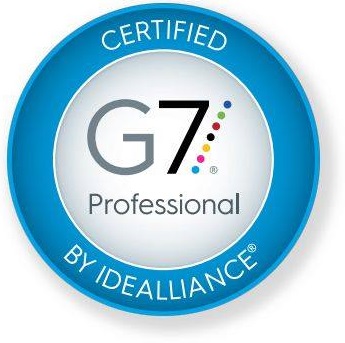 Why is G7 important?
Customers demand consistent, predictable, and measurable color management across all executions. G7 has set the industry bar for proven color matching, from proof to press, regardless of the application.
Our commitment to G7
At The Print Source, Inc. our G7-certified staff are in-house professionals with premier knowledge in color management, process, and quality control for proofing and printing. All G7 staff members have completed a comprehensive examination with stringent proficiency requirements and are re-certified every two years.
Want to learn more? Is your current print provider G7-compliant? If not, email Rob Narron, our Sales Manager, or call Rob at 316-613-3248. And see how our commitment to consistent, globally renowned, superior printing quality processes will enhance your brand.