The Print Source, Inc. is one of a few select companies nationwide that is a Certified Metalphoto® Converter. With this certification, we have a level of application expertise for Metalphoto® photosensitive anodized aluminum that makes us experts in the industry.
Metalphoto is meant for applications that need a tough solution. It is incredibly durable, permanent, has a high resolution and legible through the harshest environments. In a quick snapshot, Metalphoto:
Comes in .003 MIL to .032 MIL material.
Can cut perimeter to virtually any custom shape.
Can counter sink holes for flat surface fastener installation.
Is permanent for the life of the part.
Is durable in high temperatures (up to 1,000° F).
Has extreme UV resistance and is excellent for outdoor use.
Has 2D and QR code capability.
Is abrasive resistant.
Is chemical, fuel, hydraulic fluid, saltwater-resistant.
Is available in Poly-color dyes and screen print ink colors.
Meets MIL-STD-130 requirements.
With Metalphoto, we offer a wide range of adhesive backing for nearly any application and include variable data with any order.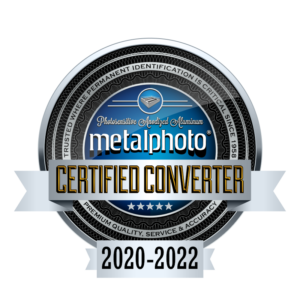 Here are common questions we are asked about Metalphoto:
What is Metalphoto?
Metalphoto® is photosensitive, anodized aluminum used to make durable, high-resolution nameplates, labels, and control panels. Metalphoto's silver-halide based image is sealed inside of anodized aluminum, making it readable after prolonged exposure to harsh operating conditions including weather/sunlight, heat, abrasion, chemicals & salt-spray.
Who uses Metalphoto?
Since its development in 1950, Metalphoto has been trusted by leading OEMs, military and government organizations for nameplate, label and control panel applications where permanence, resolution, variable data or a combination of those characteristics is required.
Why is Metalphoto so durable?
Metalphoto's durability comes from its image – which is sealed inside of the anodized aluminum, providing corrosion, sunlight, abrasion, temperature and chemical resistance. The unique, photographic imaging process creates ultra-high resolution graphics and variable information – including machine-readable barcodes, anti-counterfeit security features and serialized data.
What is the life of a Metalphoto print?
When printed with black ink, Metalphoto prints have an estimated 20+ year outdoor life. With four different finishes and 10 thickness options, Metalphoto is the perfect material for any nameplates, signs, labels or control panels that need to stand up to harsh outdoor environments, or any project where permanent identification that will remain legible for the life of the product is crucial.
Where are good places to use Metalphoto?
Metalphoto is resistant to many conditions commonly found in outdoor environments that would erode most identification products printed on other materials. Its performance characteristics include:
Abrasion Resistance

No pronounced image loss, degradation or reduced readability after 7,000 cycles on an abrading wheel.

Acid Corrosion

No deterioration or image degradation after 24 hours in 3% nitric acid.

Heat Resistance

Standard Metalphoto readable up to 500°F, Image Intensified Metalphoto readable up to 800°F. Both tested for a 24-hour oven exposure. Inquire for heat resistance up to 1,000°F with Extra High Temperature (XHT) treatment.

Salt Spray Corrosion

No deleterious effect after a 720-hr salt spray (fog) test. 2,6 "Very Good" corrosion resistance after 113 days seawater exposure.

Accelerated Light and Weather Resistance

No pronounced deterioration of legibility after 400-hr carbon arc weatherometer exposure. (Estimated 20+ year outdoor life)

Accelerated Oxygen Aging

No discoloration or fading after 96-hr/300 psi/70°C oxygen bomb aging

Stain Resistance

No black fading when plates are exposed to tincture of iodine.

Cleaning Resistance

No deleterious effects when tested with alkaline cleaners (MILC-87937 or equivalent) for aircraft surfaces.

Low Temperature Resistance

No deleterious effect or image fade after 1 hour at -50°F. No impairment of legibility upon exposure at -67°F.

Organic Solvent Resistance

No softening, staining or noticeable fade after 24-hr exposure to: JP44 fuel, Gasoline, Minerals Spirits, Methyl Ethyl Ketone, Turpentine, Turbine & Jet Fuel, Kerosene, Xylol, Acetone, Toluol, Heptane, Trichlorethylene, MILH5606 Hydraulic Fluid and MIL-L-7808 Jet Engine Oil.

Thermal Shock

No deterioration after 3 cycles between -65°C and 125°C

Moisture Resistance

No deterioration after 10 humidity cycles per MILSTD-202, METHOD 106.